Shhh! Listen carefully, I'm going to tell you about one of France's best kept secrets – the Vosges Mountains. A low mountain range that runs SW-NE just west of the French-German border, about a day's drive from Calais.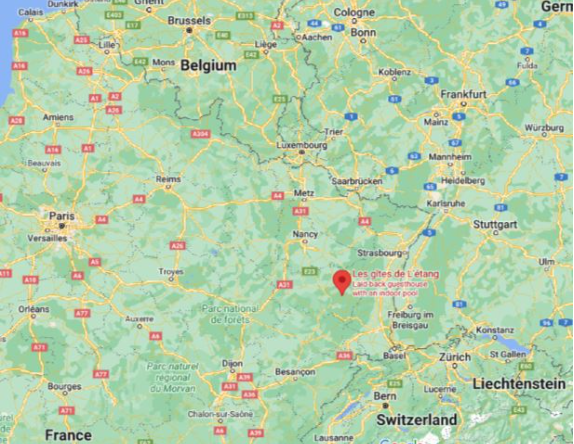 Parts of the Vosges were under German administration from 1870-1918 and this can be still clearly recognised today. If you were beamed down into one of the pretty small towns or villages you would be hard pressed to work out exactly which country you were in; with exquisite half-timbered architecture and names like Kientzheim, Munster, Zellenberg. The highest col is the Grand Ballon at 1,424m, (4,672 ft), the landscape is of extensive tall pine forest lining the tranquil valley sides with rich rural pasture in the valley floors. The mountain roads are on the whole wide, well surfaced and in early June quiet, apart from small groups of mainly German motorcyclists. The climbs, although shorter than in the Alps, are still challenging, as hairpins are fewer and less tight and gradients can be 10% or more for quite a stretch. The upside is the downs are fast without the interruption of consecutive hairpins.
Fifteen of us met at around 7am at the Folkestone Eurotunnel terminal on Thursday 9th June for seven days of cycling together with a lot of fancy cars swelling the border check queues heading for Le Mans. The group comprised thirteen cyclists, twelve Midweek Group 4 cyclists and a friend of John Murdoch's from Norwich and then we don't know how John does it but somehow he persuades two of his car rallying friends (Ian and Bob) to come along to provide car support and roadside lunches!
The trip is run as a fixed centred cycling holiday meticulously organised by John Murdoch. This was Group 4's third visit to the area (previously in 2017 and 2018) staying with hosts Phil and Marie in three gîtes contained in one building which the group takes over in its entirety, including the outside games room (aka bike store). The main gîte also has a small indoor heated swimming pool, steam room and sauna (doubling as drying room). The gîtes' extensive garden laid to lawn runs into fields of ripening barley and provides a tranquil and restful setting; our hosts' chickens can often be seen roaming the grounds in the late afternoon. Marie and Phil are superb cooks and provide our evening meals. We self cater breakfasts, lunches and pre-dinner recovery aperitifs.
Ian and Bob not only provide our lunches each day on the road out of the back of Ian's car but in addition go out each day to buy fresh lunch supplies and top up all our self catering needs. Having Ian and Bob is the key ingredient that makes the trip work so well, as lunch is provided where we need it, saving us time finding towns and cafés/restaurants serving suitable food at lunch time. They can also provide mechanical support and lifts to riders that succumb to heat, hills or serious mechanicals.
John's meticulous planning of course extends to the rides themselves and are a mix of rides directly from the gîtes or car assisted rides slightly further afield to enable us to explore a wider area. John will order the rides on a combination of factors including: weather, our appetite for a challenge or a lighter day depending on the groans received during the next day's route briefing over dinner. This year John had the additional challenge of a three day car rally taking place in the immediate area which meant certain roads were closed. John will also provide a little extra for anyone who wants it. This year was our best year weather-wise, with nearly wall to wall sunshine and only one heavy thunder and hail storm, fortunately overnight. The heat did build to an insufferable 35°C on Wednesday which caused the tarmac to start melting on the Routes de Crêtes. The assembling of riders for the first day's ride after the previous day's early start and long journey is always likened to the herding of cats meets Dad's Army, with last minute bike tweaks, tyre pressure checks, changing of layers, forgotten water bottles etc but I think we surpassed ourselves this year to find ourselves ready to go on time, only to find one cyclist waving at the glass of the locked front door – from the inside!
It would take a whole book to elaborate seven days of riding: from the breathtaking views; to the detailed flora and fauna along the way; the agony of the climbs to the thrills of the descents, so here's just some riding highlights:
The Routes des Crêtes, particularly the balcony ride from Grand Ballon back to Col de la Schlucht – it's an undulating ride with great views. It continually catches us out; the crests always need a bit more effort than we'd previously remembered.
The agonising climb in heat to the monastery at Mont Sainte-Odile is rewarded by the breathtaking views across the Upper Rhine Plain to the Black Forest in Germany. This is followed by more climbing after lunch before a long exhilarating descent back to the Col d'Urbeis.
One of the longer car assist journeys of about an hour to Lapoutroie is worth it for the ride to Riquewihr with climbs along the way then into Alsatian vineyards and the exquisite mediaeval town itself.
The Routes des Crêtes north from Col de la Schlucht with an afternoon stop off for myrtle tarts sold by the roadside on the bend at Col du Louschbach. The large shack was visited by the group five years ago to the day and by John and Don ten years ago on a previous road trip. The poor patron is now just down to one tooth but this does not stop him smiling. Unfortunately, it was here we found soft tarmac in the extreme afternoon heat. This slowed our ride home after picking up gravel; a couple of riders had to be rescued as they couldn't ride their newly formed gravel bikes. We had a pleasant evening back at the gîtes cleaning our tyres with petrol.
No report on our trip would be complete without a huge vote of thanks to John Murdoch for the job of organising and the detailed planning he does. Similarly thanks go to Ian and Bob for their enthusiasm and conscientious support providing lunches, transport, emergency pick-ups and day to day shopping. Lastly to all the "foot soldiers" who lay tables, cook eggs and porridge, clear, clean, wipe and sweep and sort out the finances – thank you! Same goes to all the riders for their general good company and bonhomie.