It is with great sadness that I have to advise members that Geoff Smith passed away recently.  Geoff was a true stalwart of the Club, being a tireless editor of the magazine, and an enthusiast in all that he did – whether that was  cycling, swimming, or indeed anything else to which he turned his hand.  He was very much his own man, and after he moved down to Devon we missed his cheerful presence on our rides, and now we shall miss him even more.
A personal recollection from Rico Signore is attached, together with some wonderful photographs of Geoff
John Murdoch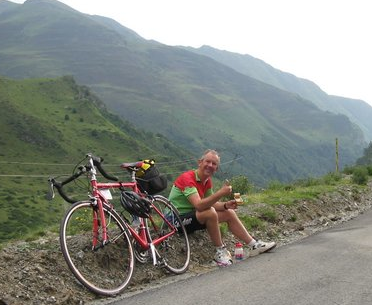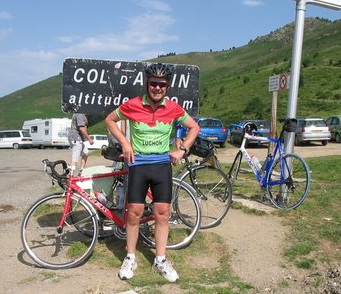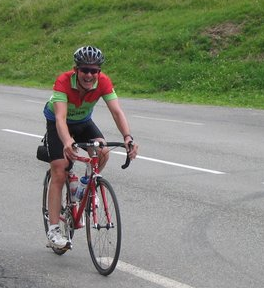 Rico Signore writes:
I was very sorry to hear of the death of my good friend Geoff Smith. Having heard of his illness (leukemia) I spoke to him on the phone not that long ago and he seemed very cheerful and upbeat. So it came as quite a shock to hear he had died.
Most of our members remember him as the very capable editor of our West Surrey CTC magazine, a post which he held for several years, until he moved to the Exmouth area.
Together we organised three trips abroad which, luckily, were very successful and are apparently fondly remembered by those who took part, many of whom were Geoffs friends who attended his cycling weekends:
– June 2001 to Switzerland to Morat/Murten – Meiringen – Andermatt
– June/July 2003: Buriet (Lake Constance) – Lavin (Engadine Valley)
– 04 to 15 June 2005: Twinning trip to Rastatt And Freiburg (Woking & Guildford)
This was our most ambitious and daring trip, by chartering the Bike Express double-decker coach and trailer for the bikes – 3 nights in Bouillon (Belgian Ardennes), 4 nights in Rastatt (Woking) and 4 nights in Freiburg (Guildford). We had over 40 participants – not all cyclists, some were members of the Twinning Associations.
Returning from this last trip Geoff and I were asked: "Where are we going next year?" We just looked at each other, shook our heads and declared that we were lucky enough to have organised three successful trips  – so anybody else was welcome to carry on – which sadly never happened.
Geoff's other great passion was of course "Jazz". He was lucky enough, as a young journalist, to be granted an interview with Duke Ellington and became one of the great admirers of this Giant of Jazz.
These are just some of my personal and fond memories I have of Geoff.
Our thoughts are of course with Debbie and Geoff's family at this very sad time.
Christine & Rico Signore, Jeff Banks, Bob & Pauline Mcleod, John Murdoch and all members of CTC West Surrey.