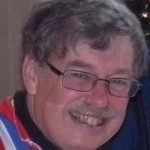 Roger Philo writes . . . .
Some of you will know that two months ago, whilst staying at my sister's house in Ilkley, I slipped when walking on a wet path and broke my left femur. A little under three weeks ago, I had recovered sufficiently to travel home to Guildford, where I managed to put my Thorn Audax on a turbo trainer. I found I had enough flexibility in the left hip to turn the pedals, but I needed a mounting block to get on the bike, so this wasn't practical  for riding outside. Since I still need crutches to walk and can only manage about 1mph, being able to ride again would be a huge advantage.
No problem, I thought, I'll be able to get on the Brompton quite easily and I can strap the crutches to the frame. It turned out I could straddle the Brompton and get my right foot on the pedal but the stiffness in my left leg meant I couldn't get started safely. So, if I changed the right hand pedal for an SPD, of which I had a spare pair, I would be able to ride just using the right leg if necessary. That required removing the original pedal and this I could not do. Last Saturday, I gave up trying and decided to order a new crank/chainwheel. SJS sell these but so also do Brilliant Bikes, for the same price but no P&P. So, I ordered from them and as, an afterthought, ordered a cable lock as well. On receiving an email saying the lock was out of stock, I phoned them to ask if they would send the crank/chainwheel without waiting for the lock. To this they agreed and only at this point did I realise that their shop is in Chobham. The crank/chainwheel duly arrived on Monday morning. Excellent service.
I fitted the crank and SPD pedal and found I could get started safely. I decided, having got started, to ride to Budgens about half a mile away to buy a bottle of wine to celebrate. On arriving there I found it had closed down, so it was off to the Little Waitrose in the Shell garage near Stoughton crossroads. OK, the whole trip was probably only about 1½ miles, but it's a start.