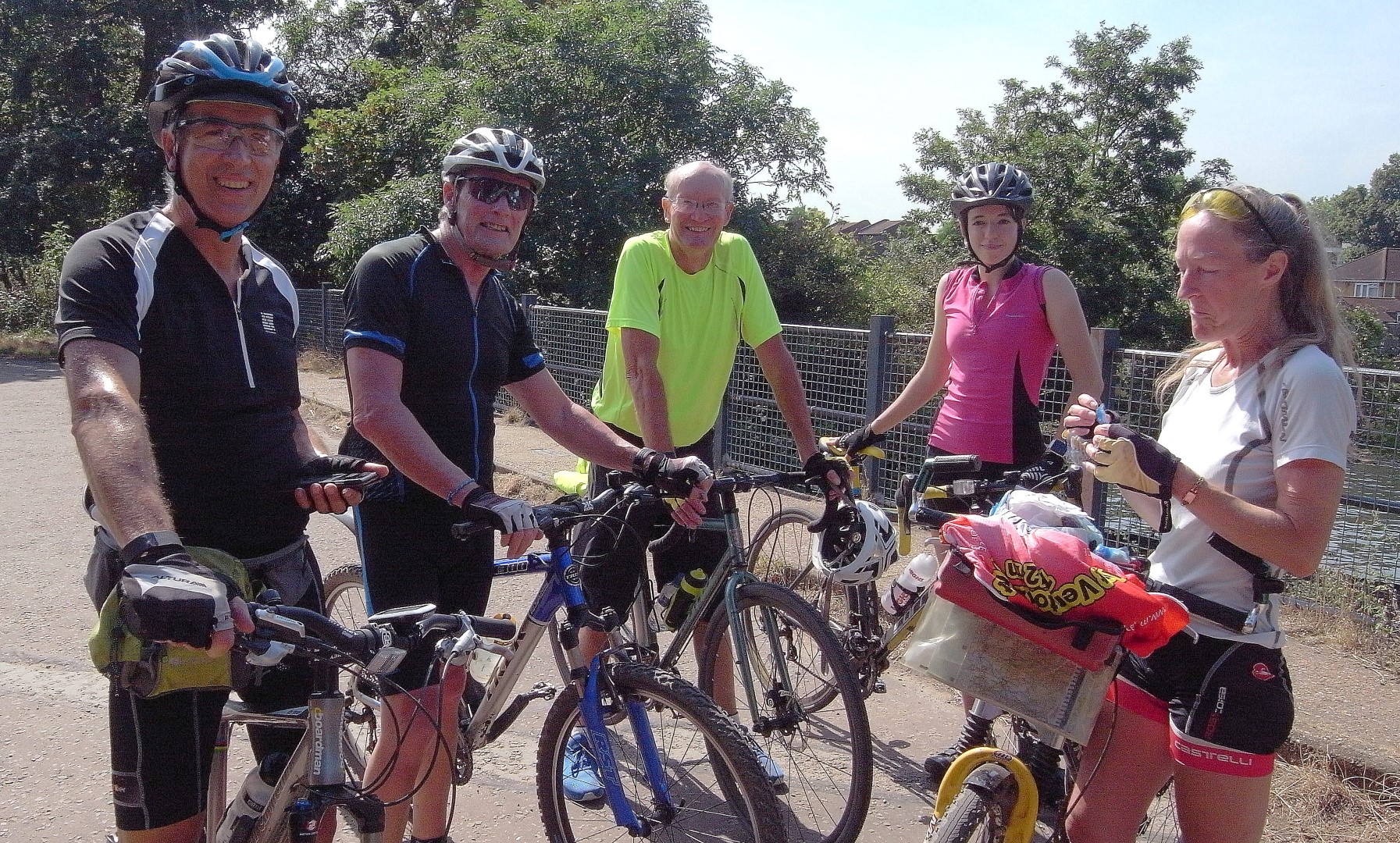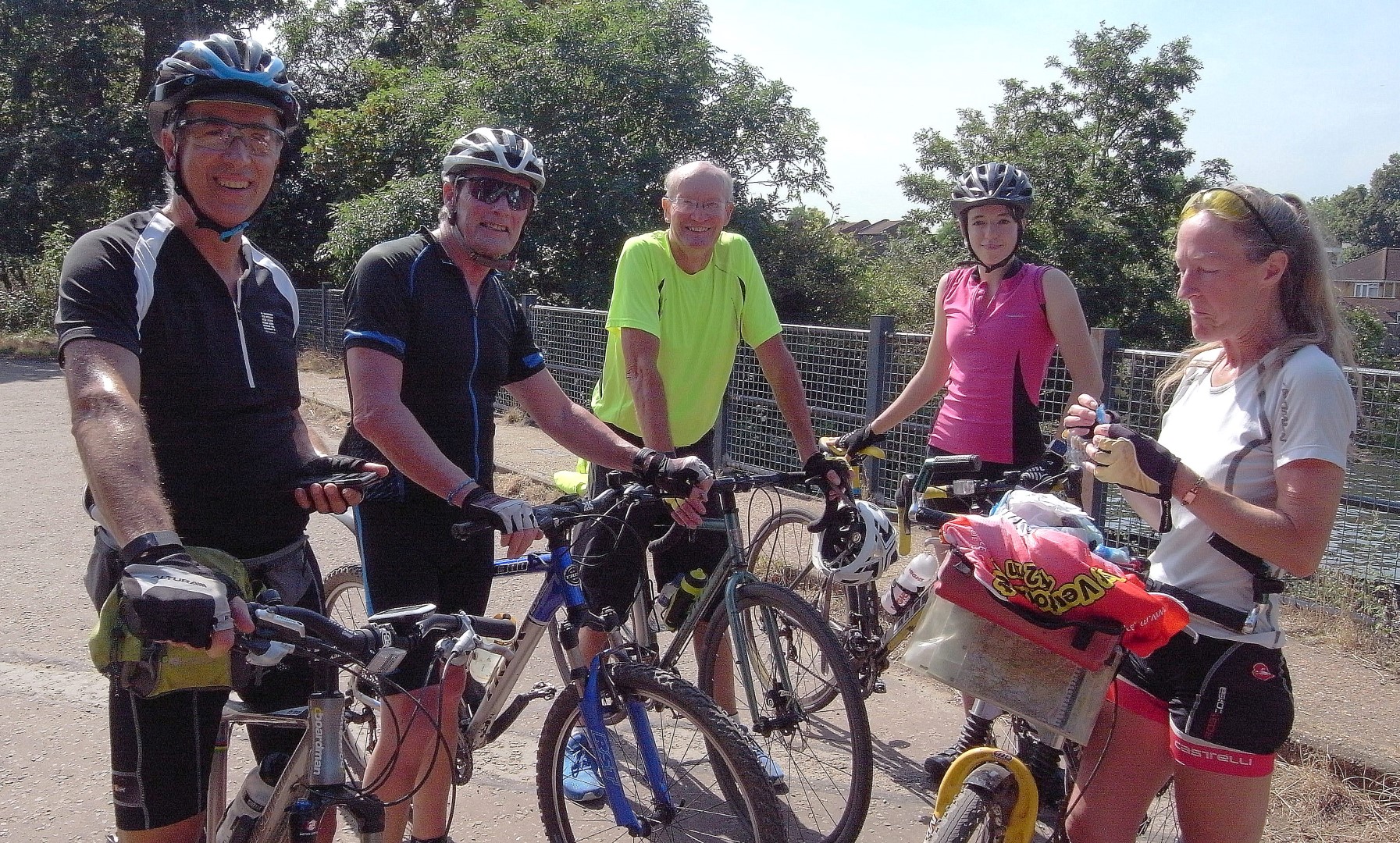 For those of us who enjoy the annual hot, dusty trundle (at speed) down the Thames, today did not disappoint: it was indeed hot and dusty…. but oh such fun! It really is a ride with a difference and it was a joy to see us all heading off with a minimum of organisation and a maximum of anticipation of a good day in good company. Mountain bikes had, in most cases, been pulled out from the back of the bike pile, checked, oiled slightly and were ready to rock and roll.
Before heading off from the car park of the Black Prince in Woodham – a mere few hundred yards from the start of our canalian progress – John very sensibly reminded us of the occasion when there had been a minor 'towpath fracas', the consequence being that one of our number found himself in the water, complete with phone, camera etc, and that it might be wise to avoid similar confrontations if at all possible.
As it turned out the Thames and canal towpaths were certainly attracting their fair share of dog walkers, joggers and sundry other pedestrians, not to mention quite a few other cyclists, but everyone seemed very amicable and ne'er a cross word or a frowning face was spied – not by me anyway.
And talking of me, apart from all the abuse I received for riding on a pink bike, I was in seventh heaven with a goodly bevvy of pretty girls amidst pretty scenery to photograph. And the fellas weren't bad either!
We seemed to organically split into several groups, with the 4s doing what the 4s do – shoot off. We 3s managed to stick together until Kingston where the advance group succeeded in missing a turning, without knowing it, then waiting for a long time for the rest of the group to catch up, which they never did of course, because they had gone the right way and were proceeding on their way round Richmond Park, which it is traditional to circumnavigate prior to lunch.
The outcome was that the advance group made the very sensible decision to head straight for the pub, and break with tradition and not get all hot and sweaty riding round Richmond Park, because we were hot and sweaty already – apart from the girls, that is, who were lightly perspiring – as they do…
The Anglers, reached by a long narrow bridge, lies adjacent to the river in Teddington on the Middlesex bank and I knew it to be agreeable but expensive from our visit there a couple of years ago in similar conditions. We lingered most enjoyably over the expected expensive repast, greeting the other groups as they arrived – hot and sweaty of course from their circuitous perambulations in Richmond Park.
Eventually it was time to head off homewards, involving a ride through Teddington and Hampton Wick before reaching Bushey Park which we cycled through to Hampton Court where we joined the river again and basically retraced our wheelprints back to Woodham with a pit stop at Walton Bridge for a much needed ice cream or cold drink.
What a lovely ride this is! I really must ride from home next time and also try to instil some form of discipline in the 3s. I mean, leaving out Richmond Park… at least not all of them are guilty!