The cold, misty start might have put some off, but anyone who kept his eye on the weather forecast would have known that this was just the precursor to a beautiful day; and that's just how it turned out to be. A good number of riders gathered in Mayford for a ride to the Canal Centre in Mytchett before the various groups went their separate ways.
The faster bunch headed through Farnborough and out the other side into attractive Berkshire countryside, doing a loop before taking lunch at the Leather Bottle in Mattingly – we even had it in the pub garden, it was so warm and sunny. The group separated as people headed off back towards their respective home areas once we'd got back to the Farnborough area. It was another very enjoyable ride and all thanks to John for leading it.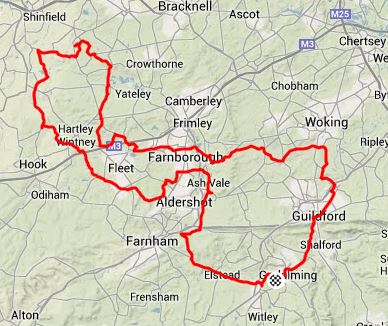 To view the route in Strava click here.