The forecast for the day had looked promising right up to the evening before the event, but  at the last minute rain was forecast for the morning. And that's exactly what happened: it started to fall at 9.35am, just as the riders were heading off, and lasted for about two hours. The rest of the day provided pleasant riding conditions. One suspects that instant access to the latest forecast via the internet can have a considerable effect on event attendance, as the following statistics clearly reveal. If rain is forecast, then a lot of people who have signed up to ride just don't turn up.
2019

2018

2017

Entries

(on the line)

190 (6)

180 (19)

150

Finishers

105

135

103

No-shows at start

39

24

24

Didn't finish ride

46

21

25
Last year, two weeks out from the event, there were only 70 entries; this year entries came in steadily over the previous months and there was no last minute surge. No reason for this is immediately obvious. And again, more than half the riders needed to take out event insurance since they were not members of either Audax UK or Cycling UK. It used to be that members of a British Cycling affiliated club were insured to ride audax events, of which TotH is one, but this is no longer the case.
This was the 38th running of the event and once again it was deemed a great success by both riders and volunteers, who turned out in their usual numbers to check riders through the controls and help back at the headquarters at Shere Village Hall. With an ever increasing number of riders, the work needed to carry off the event increases and a huge vote of thanks must go to the following club members who came to help: Heidi Vinson and her catering team consisting of Jill Ridyard, Susan Buff, Pauline McLeod, John Child and Martin Vinson. Looking after the various controls, and very ably recruited and organised by John Murdoch, were Maggi Moss, Laurie Mutch, Ian Ayres, Angela Byrne, Roy Wigmore, Brendan Minihane, Ian Pickering, Penny Knight, Roger Philo, Pat Daffarn, Alec Mackenzie, John Findlay, Russell Johnson, Clive Richardson, Neil McIntyre, John Carolin and Stuart Thomson. Back at the hall, helping set up the hall, assist with checking in the riders and a myriad of other jobs, were Derek Ridyard, Bob McLeod, Chris Jeggo, Don Gray and Peter Hackman (who then went on to successfully complete the ride – one of very few West Surrey members to do so). Apologies if anyone has been left out. 
Particular thanks must go to Don Gray and Laurie Mutch who between them rescued an injured rider and ferried her to A&E at the Royal Surrey Hospital. This was the only serious accident that has taken place in the last three years during my 'watch'; the rider was not detained for very long and is well on her way to making a full recovery. There was one other tumble but the only injuries sustained were to the bike fortunately. Credit must be given to the riders for this; it is by no means an easy ride and in anything but ideal conditions can be very tricky indeed. 
Financially the event was a great success as usual. This would not have been achieved were it not for the generosity of the riders who donated £124.19 towards the catering fund – proof, if proof is needed, that the food we provide is exactly what's wanted; we still have Louise Gagnon to thank for this – she provided the menus some years back now, specifically targeted depending on whether it's pre-, mid- or post- ride nosh. 
This year, five riders completed the event in under five hours. It's not a race but nevertheless I always think it's worth noting for the record that the first rider home, Steve Winder of Epsom CC, got back in 4 hours 21 minutes. 
The Tour of the Greensand runs concurrently with Tour of the Hills and this year attracted  six West Surrey riders and one from South Bucks, Steve Kish, who comes this way from time to time to ride our events.
Finally, Cycling UK chose not to include Tour of the Hills as one of their Challenge Ride series this year. This could be because, as organiser last year, I would not claim that being a Challenge Ride added to the number of riders who signed up to ride. This year's numbers would seem to confirm that view. As a consequence of the quality of the ride and the effort that goes on behind the scenes to make it an amiable and well-run event, word-of-mouth seems to be publicity enough to ensure its continuing popularity. As such, I am in many ways sorry to be standing down as co-ordinator (as is Heidi as catering supremo), but happy in the knowledge that it will surely continue to flourish under the stewardship of Derek Ridyard with wife Jill looking after the catering. Good luck to you both! And thanks again to everyone who in the past three years has helped me to ensure that Tour of the Hills continues to be the greatest bike ride Surrey has to offer. 
Mark Waters
22 August 2019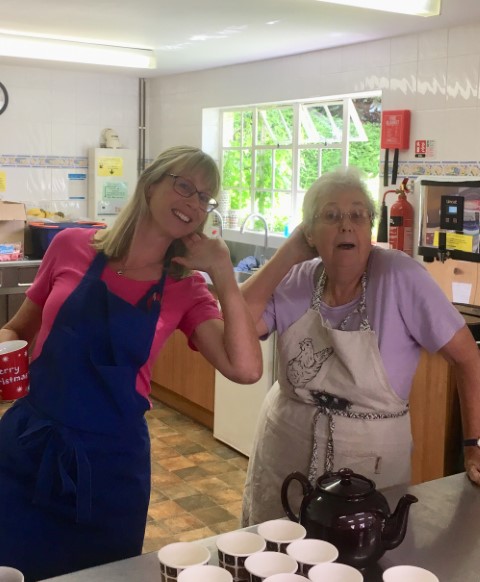 Great event. Thank you for organising & massive thanks to all the volunteers too. Mark T
Just to thank you to yourself and everyone else involved in organising todayís audax. This was my first time in the Surrey Hills, and I loved the ride. All 3 of us had a great day, and were blown away by the organisation, food and how welcoming all the helpers were towards us. Thanks again for an excellent day. Jane T
Thank you and all your volunteers for organising such a great Audax event yesterday from Shere. Jackie and I really enjoyed the route and the challenge of the hills. I personally have never cycled in the area before so it was very interesting for me to ride the famous hills and many others. I have to say Box Hill and Leith Hill are very over rated and by no means the toughest hills yesterday! You certainly saved the toughest until last! Your marshal's at all the checkpoints were very welcoming, friendly and encouraging and the team at Shere Village Hall did an amazing job to keep us all fed and watered before, during and after the event. Julie B
Just a quick note to say thanks for yesterday. Hard work but rewarding for the views and the sense of achievement. Great organisation and encouraging marshals at check points. Thanks again for all your efforts.
I would like to thank you and your team of volunteers for helping myself and Sarah out yesterday following her accident. Could you please pass on our thanks to Don for kindly taking Sarah of to the hospital. This was a great weight off my mind, giving me time to contact the others in the group and arrange for us all to get to get over to the hospital to see how she was and also to relieve Don. Also could you pass on our thanks to all of the marshalls and staff at the HQ. It was a pleasure to meet them and to see their dedication and hard work in making the day an enjoyable experience. Mick S
A quick note to thank you for again organising Sunday's event, and for making it a real success. Please pass on my thanks to the many people who gave up their Sunday to help, both those at the various controls and those back in the village hall. They were welcoming and friendly and all contributed to making it a very enjoyable day. Roger S