The ride, which took place on Sunday 6 April, attracted 7 people (including the organiser and your scribe), five of whom were West Surrey riders. These were Claire Hooper, Peter Hackman, Clive Richardson, Chris Boggon and a friend of his, Andrew Grundy from Tadworth; and finally Trevor Strudwick, who used to be one of us but moved to south Wales a few years back. Trevor was here to remind himself how grotty and awful our local lanes can be; he was not to be disappointed!
The forecast was poor and it rained gently on the morning of the ride, leading up to the start. In fact, although most wore waterproofs during the ride, what rain there was was light. The weather could best be described as mild and dank. A thick mist surrounded Leith Hill and the higher parts of the Surrey Hills. It was not the kind of day that many would have wished to ride on, which doubtless accounts for the poor turnout.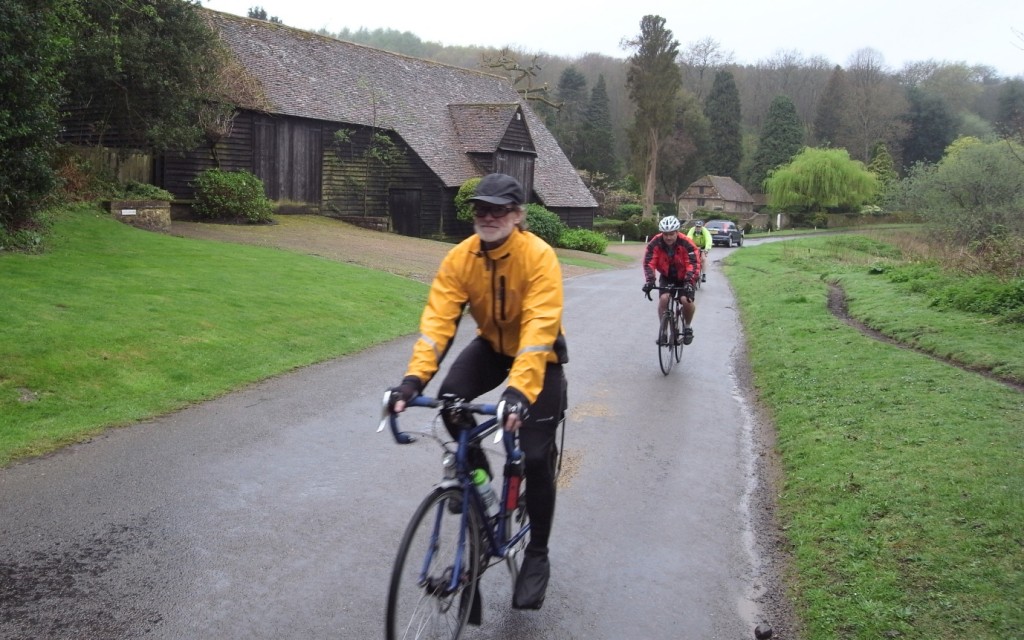 Despite the weather having been relatively dry for ten or more days prior to the event, such little rain as had fallen during the hours prior to the ride was very much in evidence on the roads, which were in a generally dreadful condition, notably the lane which led south from Thorncombe Street. Mare Lane too was as bad as ever and it was exceptional that no fewer than four cars were passed on that lane as we rode it – three coming the other way. Another mysteriously turned round at the top and returned the way it came; was it something we said?
All completed the course and, as has become customary, we rode round together, getting to the finish at 14.25 hours, thus completing the course in a tad under five hours, a good hour later than in previous years; this despite not stopping at the shop in Peaslake or dropping down to Shere. However, two people had punctures and all waited while they were repaired.
Despite the weather, which wasn't really that bad, it was, as always, an enjoyable ride through superb scenery. A lengthier article will appear in the Magazine in due course.
To view the course in detail click on this link
And here's an image of the route and gradient profile.