My wife noticed first, on Friday to be precise, and told me when she got back from teaching Bikeability on Friday morning and cycling over to Woking in the afternoon; there was something in the air. I answered with a rather non-committal "yes" as I had not had a chance to experience it. I was rather focused on the Sunday ride as the weather forecast was very good and I had had a lousy week. I needed to turn the pedals. I had even decided which bike to take out – my grin machine, or negative gravity machine as Peter Fennemore (spelling?) had once christened it.
Guildford is the best start for me – it's the closest and I can cope with leaving the house just before 8:30. And I was not going to be late. In fact I was blowing away the cobwebs and didn't realise Martin was chasing me down through Merrow. Arriving at Guildford there was Mark, resplendent in blue to match the chosen steed of the day. Finally Clive rolled in at just after 9:10 and seven of us set off. I missed the conversation as to what Peter had forgotten but as we were going within a few yards of his house he was going to divert and pick it up. Good of him to roll down the hill just to cycle up it.
A slightly unexpected right turn into Lawbrook Lane meant that Leith Hill was not on the route today. Instead, we had the pleasure of Radnor Road out of Peaslake, with a decent pause at the top. Mark had commented on the amount of gadgetry on my handlebars – a GPS/phone and a cycle computer for my powertap hub. The latter clearly did not like the climb and gave up and no amount of fiddling with it the top of Radnor Road could get it working again, so now I have to do the detective work and find out which battery has died. And great pity as I would love to see the stats on the ride. (More anon). The rest of the ride to Horsham was lovely – though Mark needed a little persuading – but the promise of meeting up with Don, apparently did the trick. Didn't know you were such a gambler, Clive, but luckily for you Don  was there, as well as all the women and girls in pink doing the Race for Life. I hope they raised a lot of money.
Two turned back at Horsham, and the rest of carried on southwards. At Warninglid we had a slight indecision as to the turn so Martin climbed the two feet over the humpback bridge to the gates of "Lyndhurst" to ensure he did more climbing than the rest of us – until Clive decided we should all do it and Peter should take the picture. Then having decided we should take the turning, we retraced the 20 yards and headed down to Fulking
.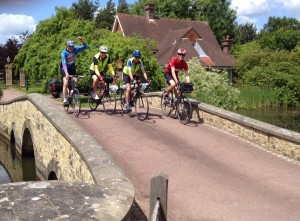 So what was it take my wife had noticed? Well, there is something in the air and it affects drivers of certain prestige German cars, Range Rovers and a few others. I lost track of the number who overtook us on blind bends, just coming up to the brow of the hill, who used their horn for absolutely no reason, the many who did not acknowledge us when we stopped to let them through but the award of the day goes to the woman in a red car who just had to squeeze past us only to pull in to a car parking space about 50 yards further on. As if we were going to steal her space! The sun, UV or pollen just completely turns their brains to mush!
The road along the south side of Edburton Hill and Trueleigh Hill, from Fulking to Upper Beeding, is a delight as long as there is no headwind – which there was not. But one lone cyclist nipped past and didn't say hello. Paul commented on my restraint at not latching on to his wheel. But my mind was on more pressing things – lunch, taken at the Café in Cobblestone Walk. A charming place, very friendly, but mind your head.
The need to get to a tea stop meant that we set off at around 2:30 hoping to cut through Wiston House but a closed gate, camera system and warning sign made us turn back and head up the Horsham Road and past Wiston. A little before Adversane three cyclists overtook us – without saying hello. Their leader was small man, his bike had a rack and a pannier and he was pedalling 19 to the dozen. His companions were larger in stature, one was wearing that dreadful Heinz beans jersey. We let them go and I thought no more of it. But on the B2133 we slowly reeled them in and then Clive was on their wheel and I was on Clive's. That gentle incline around Streel Farm seemed to be troubling them and as I seem to be getting a reputation for accelerating uphill I just put my foot down and apparently left them standing – the joys of a negative gravity machine. The GPS trace shows me hitting a ridiculous speed. I slowed for the left turn to Wisborough Green to let the group catch up but Peter said that we had to get to the café first as he was fed up of finding the item he wanted had run out. Full steam ahead all the way to the café and we arrived at 4:02. The café closes at 5pm in the summer (Kirdford at 4pm so we would never have made that.) Never was a cup of tea so needed. Of course the three turned right at the junction so our efforts were not needed but it was the talking point during our break.
On the green a cricket match was in progress and as we set off the batsman was clearly intent on slogging everything.   He pulled one to mid-wicket and it crashed into a car and off across the road just a few yards in front of me. Time to move out, I do not like being a target. The rest of the journey was uneventful and one by one my companions peeled off for home as I made my way to W Horsley and completed my second hundred of the year. When I got home I said to Alli, " There is something in the air – the car drivers……." "I told you so," was the response.