A few weeks ago I was contacted about Jonathan Bell, who was in the Army, seriously injured in a training accident in the 1990s and paralysed below the upper back. He rides a hand-cranked recumbent trike and is riding coast to coast, Morecambe to Filey, over three days starting 6th April, to raise money for Blesma (British Limbless Ex-Service Men's Association) – see https://www.justgiving.com/C2CFORBLESMA/.  He wants to do some training out in the Surrey Hills (he's going to meet a few in Lancashire and Yorkshire!) but is a bit nervous about riding on his own on busy roads because his trike is very low down.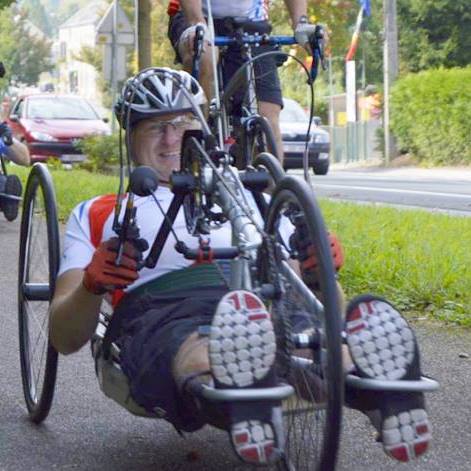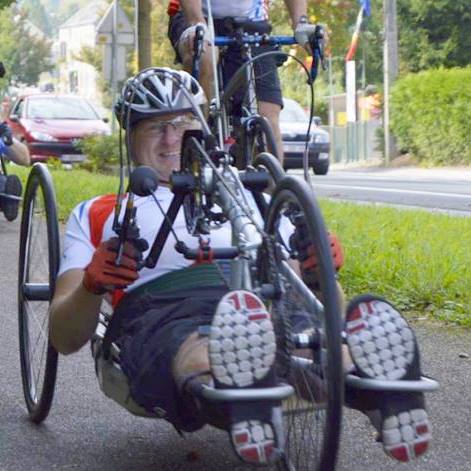 He lives in Weybridge, Oatlands Village area, so quite close to some of us. I have taken him out for five rides so far but it would be good if someone else could help out too.
I enjoy the rides – he's good company.  I've taken him up quite a few hills in the North Downs.  He's found them tough but he's got up them.  It's quite amazing what he can do despite his handicap.  The rides have averaged 30 hilly miles so far, at an average riding speed around 9 mph.  His trike is very fast down hills, thanks to his small frontal area, but pretty slow up them.  On flat terrain he can average more like 12 mph.
If you would like to accompany Jonathan on a ride, or would like further details, contact him (01932 962175, 07710 344121, jcbelluk@gmail.com) or me (01483 870218, chris@jeggo.org.uk).  Do it soon;  he's only got a few weeks to get fit for this challenge.