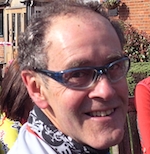 Peter Hackman writes….
Six of us rode to Hook from Farnham for coffee and thence a big loop to Sherfield on Loddon in the hope of meeting up with the South Berks CTC riders. However due to a delayed departure from Farnham, a closed canal bridge to negotiate, a puncture and an encounter with a mole we didn't arrive at Sherfield Garden Centre until 2:30, by which time the South Berks must have left.
The closed bridge entailed man/woman handling the bikes over barriers, across ditches and along pipes and wooden planks to avoid a detour! Having successfully struggled to replace Heidi's tyre after a puncture we encounterd a mole trying to eat a worm by the roadside quite oblivious to passing cars. Eventually John encouraged it back onto the verge with the aid of his pump.
Our route took us past the Roman walls at Silchester and we made a side excursion to see the amphitheatre.
I won't go into the details of the "Plate of Chips" incident at Sherfield Garden Centre. Just ask Clive, Martin, Heidi, Chris or me sometime.
Link to route:  http://ridewithgps.com/trips/2706714