Bob McLeod writes….
Peter has just returned from holiday so is somewhat pushed for time. As I took these few snaps he has delegated the report to me, Bob. 
I'm not a regular Sunday rider but Pauline was busy at Rustic Sunday in Tilford so I was a free agent for a whole day. Dane has claimed that their Sunday rides are no faster than group 4  so this was a chance to test that hypothesis.
Farnham leisure centre is a good meeting place as the facilities including coffee are available and there was a triathlon transition from the bikes to watch; including some of those streamlined helmets rushing in.
There were eight of us, all bar one of us identifiable from the pictures. My apologies to Chris Boggon who was on a very elegant recumbent, although being made of steel it didn't stand a chance uphill.  Chris left after coffee at Sherfield on Loddon before I managed to grab a photo of him.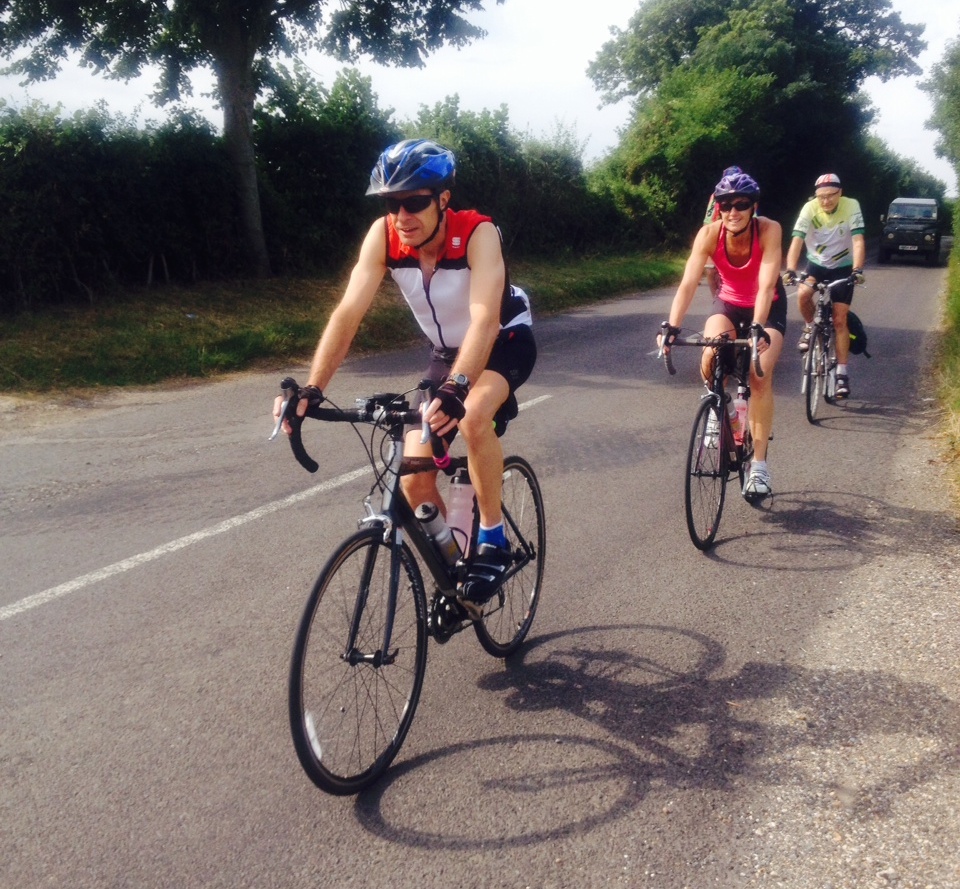 The GC at Sherfield had a pleasant garden where we relaxed with compulsory cake and drinks. The main road was busy as we left but the traffic stopped for us to cross the road and take the path. Shortly we saw approaching members of Fleetcycling in their flashy new kit. Such was our combined closing speed that I was only able to yell a quick greeting to a few friends who I cycle with on Thursdays.
We skirted round Basingstoke to the North through some unfamiliar, to me, lanes that sometimes offered shade although we mostly had a pleasant breeze from the west to keep us cool.
Popham airport was another new venue to me and very nice it was in the sunshine. Lots of activity on the airfield that Peter with his background was expected to know all about. He did very well. The snacks from the air conditioned club room were fine and the staff very welcoming. The group have a very relaxed approach, there was no rush to get moving. Some time was spent in choosing where we should have afternoon tea. We settled on Gloria's in Selbourne. The route was a mixture of lanes we knew from rides around Micheldever, ——-
——-followed by a part of the Danebury and then with help from Danes GPS we got there after 4 but the tearoom was still open and gave us a friendly welcome. Anne had found this little cafe a short while ago and we can certainly recommend it for small groups like ours, just seven of us.
Just before tea we had the obligatory puncture but no trouble in the sunshine especially when your leader repairs it for you.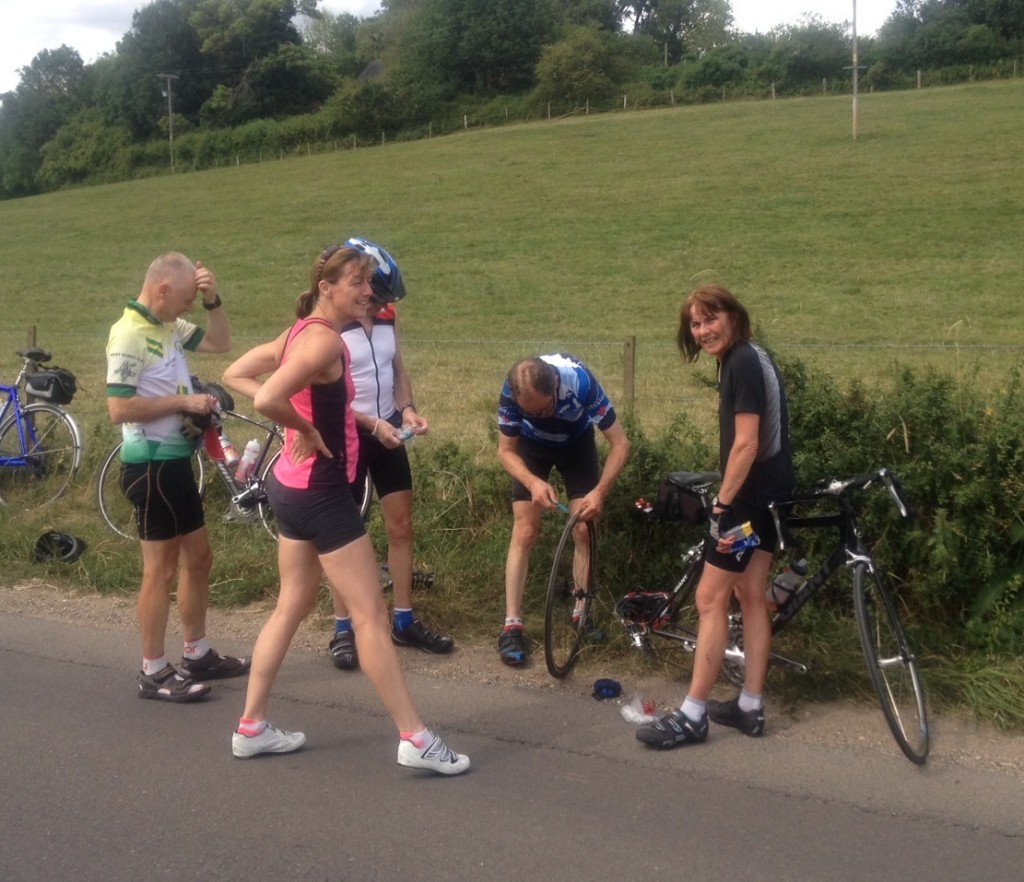 l left the group at Selbourne as they had plans for the steep hill at Oakhanger.
It was a great ride and nice to catch up with Martin, who used to ride with us on Wednesdays, and his triathlete wife Heidi (good luck in your challenge). The route below is from Dane's GPS and shows that he did 100+ miles at just over 14mph.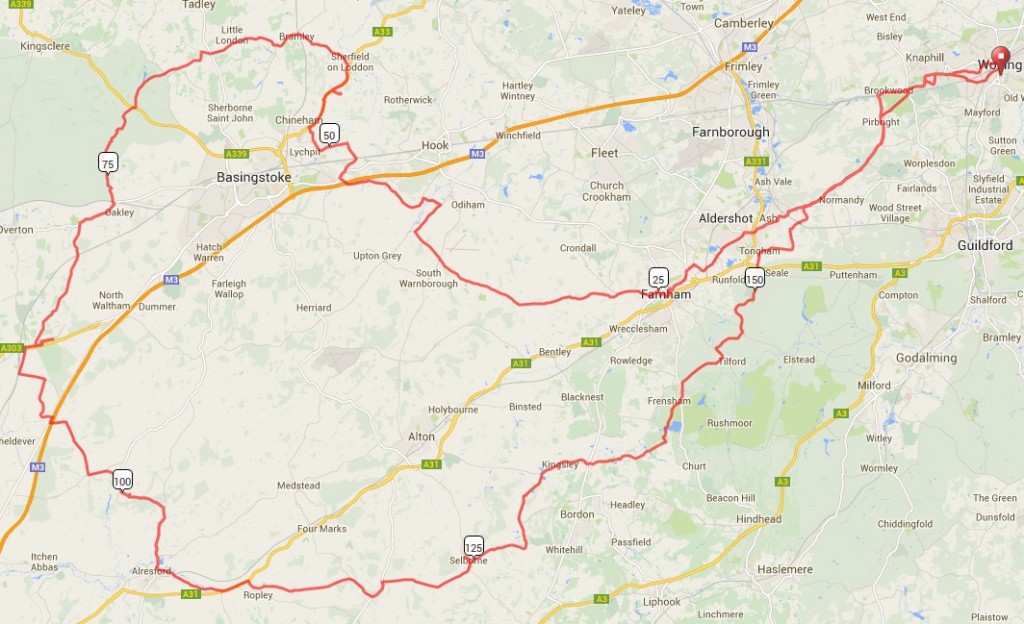 I was quite pleased with my 92 miles at a similar pace and arrived home fitter than I sometimes am after a Wednesday ride. I didn't get the chance for a beer at lunchtime but can't believe that had any effect on how I felt at the end.
Highly recommended group. Give them a try.
Thanks to all.